Glossary of Adapted Physical Activity and Parasports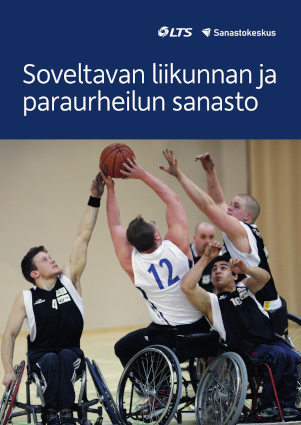 Soveltavan liikunnan ja paraurheilun sanasto, Ordlista för anpassad motion och paraidrott
© Finnish Terminology Centre and Finnish Society of Sport Sciences, 2023  
ISBN 978-952-5762-29-7 (PDF, printed, Finnish Society of Sport Sciences)  
ISSN 1798-2464 (PDF, printed, Finnish Society of Sport Sciences)
The glossary is available:  
- in PDF format  
- in the TEPA Term Bank
Languages of the glossary:  
- Terms: Finnish, Swedish, English  
- Concept descriptions: Finnish
The Finnish Terminology Centre and the Finnish Society of Sport Sciences started terminology work in the end of 2021. The purpose of the work was to define concepts related to exercise and sports for persons with functional difficulty, to recommend Finnish terms and to clarify the use of terms.
The glossary contains 41 central concepts in the field of adapted physical activity and parasports. The terms and concept descriptions are given in Finnish and term equivalents in Swedish and English.
Subject field experts from Finlands Svenska Idrott, Finnish Paralympic Committee, JAMK University of Applied Sciences / Likes, National Sports Council and Valteri Centre for Learning and Consulting formed the work group. Other experts were also consulted, and the glossary was on a comments round. The terminology work was funded by the Finnish Society of Sport Sciences.
The Glossary of Adapted Physical Activity and Parasports was published in January 2023.