Glossary of Discretionary Government Grant Terms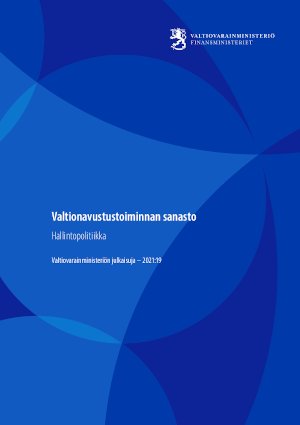 Valtionavustustoiminnan sanasto, Ordlista för statsunderstöd
© Terminology group, the Project for developing and digitalising government grant activities and Ministry of Finance, 2021
ISBN 978-952-367-723-4 (PDF, Ministry of Finance)
ISSN 1797-9714 (PDF, Ministry of Finance)
The glossary is available:
- in PDF format
- in the TEPA Term Bank
- in the Terminologies tool on the Interoperability Platform
Languages of the glossary:
- Terms: Finnish, Swedish, English
- Concept descriptions: Finnish, Swedish, English

The Glossary of Discretionary Government Grant Terms defines 77 central concepts related to government grant activities. The contents of these concepts are clarified by means of definitions and complementing notes in Finnish, Swedish and English. The concepts are provided with term recommendations in Finnish, and term equivalents in Swedish and in English. Relations between concepts are illustrated by means of concept diagrams.
The Glossary has been compiled as part of a Ministry of Finance project for developing and digitalising government grant activities. Maintaining the Glossary, for its part, will be the responsibility of the State Treasury.
The objective of the Glossary is to clarify concepts, agree on terms in Finnish, provide the concepts with reliable term equivalents in other languages, and in these ways enhance communication and interaction between government grant authorities and applicants.
The first part of the Glossary includes concepts that define the types of discretionary government grants and the types of interaction between the government grant authorities and applicants. They concern, for example, applying, the processing of applications, decision-making and the documents generated in government grant activities.
Later on, the Glossary will be supplemented with a second part that defines concepts related to the activities financed by government grants, to the effectiveness, evaluation and finances, and to the resources needed in government grant financed activities.
The Glossary of Discretionary Government Grant Terms has been prepared in collaboration with applicants and government grant specialists working in several administrative branches. The terminology work is being carried out by a terminologist of the Finnish Terminology Centre and a specialist from CSC – IT Center for Science.
The work of providing the concepts with term equivalents in Swedish and English, and of translating the Glossary texts into these languages, has been carried out by translators of the Prime Minister's Office.