Glossary of Education, second edition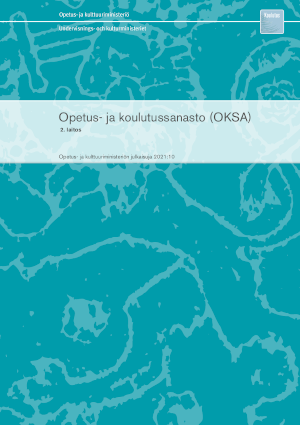 © Ministry of Education and Culture, 2021
ISBN 978-952-263-908-0 (PDF, Ministry of Education and Culture)
ISSN 1799-0351 (PDF, Ministry of Education and Culture)
The glossary is available:
- in PDF format
- in the TEPA Term Bank
- in the Terminologies tool on the Interoperability Platform
Languages of the glossary:
- Terms: Finnish, Swedish, English
- Concept descriptions: Finnish
The Ministry of Education and Culture and the Finnish Terminology Centre TSK together launched a terminology project in 2010. The aim of the resulting Glossary of Education (OKSA) is to support the development of online services in the field of educational administration and to build a basis for knowledge architecture in education and research. In addition, the Glossary creates bridges between legislation and the production of information. By providing jointly established definitions for concepts and recommendations for terms, this publication also makes it easier for people to communicate.
The Glossary serves those in need of terminological information both in the field of education and in other administrative branches. It is intended for experts in the field of education, law drafters, information system specialists, communications officers, journalists, translators, and anyone who needs information on the meaning of terms in the field of education and their recommended forms.
The first edition of the Glossary was published in 2018. Concepts related to early childhood education and care and general upper secondary education as well as to assessment and evaluation have been added to the second edition. Concepts related to on-the-job training have also been incorporated into the second edition. Moreover, concepts that were published in the first edition have been supplemented and updated in the second edition.
The second edition contains approximately 760 concepts for which terminological definitions have been drawn up. Concept diagrams are used to illustrate the relations between different concepts and recommendations are given on Finnish terms to be used. Some concepts have been given equivalent terms in Swedish and English.