Vocabulary of Cyber Security (TSK 52)
Kyberturvallisuuden sanasto, Ordlista om cybersäkerhet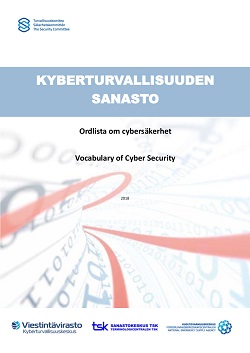 © Finnish Terminology Centre TSK, 2018
Publisher: National Emergency Supply Agency
ISBN 978-952-5608-49-6 (PDF, National Emergency Supply Agency)
The terminology is available:
- in PDF format
- in the TEPA Term Bank
The Secretariat of the Security Committee and the National Emergency Supply Agency started a joint terminology project together with the Finnish Terminology Centre in May 2017. The project was connected to the implementation of the Finnish National Cyber Security Strategy, and its aim was to compose a vocabulary to clarify the central concepts related to cyber security. The Vocabulary of Cyber Security (TSK 52) was published in June 2018.
Because of cyber security's strong connection to information security the vocabulary also contains concepts related to the latter. Among the 70 concepts in the vocabulary are also included e.g. Finnish authorities whose operations are related to cyber security and concepts connected to cyber threats. All concepts are given definitions and preferred terms in Finnish as well as term equivalents in Swedish and English. The concept diagrams in the vocabulary visualize the relations between concepts.
The vocabulary aims to facilitate communication by clarifying concepts, harmonizing Finnish terms and offering reliable term equivalents. It is intended for the use of both specialists in the field and people who e.g. write or read on subjects related to cyber security. The vocabulary can be of use e.g. in teaching and preparedness planning.
The vocabulary project was carried out with actors from various administrative branches. It was coordinated by the Secretary of the Security Committee and financed by the National Emergency Supply Agency.